Hello and welcome to

Cinna's Bark Box
Written by SolarFlare

First up in the Bark Box, we have some breaking news. Dylan, GN's own car man, is missing! You may have seen Dylan selling cars in main, making love in a Tahoe, committing suicide, or telling people to "fly to fuck." Well, all this changed when Dylan was kidnapped on his honeymoon with wife number 453. It seems as though this wife is fed up with Dylan's playa ways, and at this time we cannot be sure if he is dead or alive. The Newfoundland government is paying for his return, as his number of weddings and children, have generated a great deal of money for the country.
In other news, Jamal is back in protection after police gunned him down for apparently no reason whatsoever. Even though Jamal is known to be a local hoodlum. No Job Corps were harmed, thankfully, since Azy was located inside seeking education so she may find something to do other than play internet games.
Monkey had great plans to buy credits and show GN that he is a boss, but before he could fire even one bullet he was run over by a horse and killed. Ouch, that's ruff. To this day, the sound of neighing sends him into the corner in a fetal position, crying for help.
Question of the day: Bubble wrap was originally invented to be sold as what? PM Cinna with your answers. Use Google and Dylan's ghost will cut off your stomach.
If you have something you'd like to see in the Bark Box, message Cinna, who may be under any number of names because he dies every five days.
Blast from the past
Written by Joey
Hi all if any of you have any old pictures of yourself doing somthing GN related or with friends from our wonderful game, then please do send them to me for publication.
This one is from Erby's stag night when teabag and Campoe travelled down for the night also in the picture is Xavier one of the creators of the Elites and the original Hitman Scott. Oh and me passed out, bloddy light weight.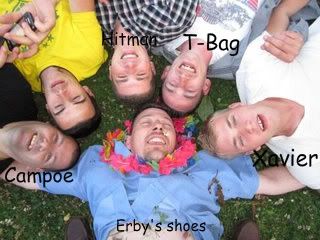 Also i used to publish your pictures of you in your home town doing somthing odd with a GN web site sign, so if any of you want in again please snap away and send them in.
Uncle Joey
Written by Joey
Dear Joey
I hope this is ok too ask you but it has been on my mind for a long time , I'm pretty sure I read somewhere that there was an agony uncle Collum being featured in the latest version of the times , for a very long time now. after sexual intercourse, once completed I jump up in the air run too my wardrobe and whack my willy on it! I then shout as loud as I can wardrobe whacker wardrobe whacker. I just can't control myself Is this a normal thing to experience? Or am I isolated In this event?
Many thanks yours faithfully Z
Dear Z
I must admit this is a new one on me, i have never heard of anyone with this form of self abuse after sexual intercourse, my advise to help you get over this form of willy whacking would be to attach a photo of Susan Boyle onto the door of the already mentioned wardrobe, this may help to reduce the size of you manhood while you are in transit on the way to the wardrobe. Hopefully with a smaller willy in hand you will no longer be able to hit the wardrobe with it.
Of course you could always try recording the whole event and post it, so when it goes viral you can make a few quid from sponsors wanting your strange story.
Hope this helps if not please Call 0800-5552539 the Weirdos Helpline.
Yours Uncle Joey
GNsville Stuff
Written by Joey
Double XP has finished, you earned 5,108 level points. DaddyMoose earned the most with 33,851 points and was rewarded 25 credits.
Congratz to you DaddyMoose nice ranking.
animal facts
Written by Joey
A pig's orgasm lasts 30 minutes. (O.M.G.!!!) A cockroach will live nine days without its head before it starves to death. (Creepy. I'm still not over the pig.) The male praying mantis cannot copulate while its head is attached to its body. The female initiates sex by ripping the male's head off. (Honey, I'm home . What the...?) The flea can jump 350 times its body length. It's like a human jumping the length of a football field. (30 minutes. Lucky pig! Can you imagine?) The catfish has over 27,000 taste buds. (What could be so tasty on the bottom of a pond?) Some lions mate over 50 times a day. (I still can't believe that pig ...quality over quantity.) Butterflies taste with their feet. (Something I always wanted to know.) Elephants are the only animals that cannot jump. (Okay, so that would be a good thing.) A cat's urine glows under a black light. (I wonder how much the government paid to figure that out.) An ostrich's eye is bigger than its brain. (I know some people like that.) Starfish have no brains. (I know some people like that, too.) Polar bears are left-handed. (Talk about a southpaw.) Humans and dolphins are the only species that have sex for pleasure. (What about that pig? Do the dolphins know about the pig?) Now that you've smiled at least once, it's your turn to spread these crazy facts. (and God love that pig!).:)
Ziidan's Interview he never knew he did
Written by Joey
Joey
"Excuse me, may I interview you?"
Ziidane
"Yes!"
Joey
"Name?"
Ziidane
"Ziidane."
Joey:
"Sex?"
Ziidane
"Three to five times a week."
Joey
"No no! I mean male or female?"
Ziidane
"Yes, male, female... sometimes camel."
Joey
"Holy cow!"
Ziidane
"Yes, cow, sheep... animals in general."
Joey
"But isn't that hostile?"
Ziidane "Yes, horse style, dog style, any style."
Joey
"Oh dear!"
Ziidane "No, no deer. Deer run too fast. Hard to catch.":)
Thank you
Written by Joey
Thank you all for reading the Times and hope you enjoyed this issue. if you have any new news or stories for me then please do PM me with them.


Remember we will be watching you.
and don't forget to vote Joey as your Editor.
Many thanks Joey.